12-23-08
NEW YORK (CNN) -- Thierry de la Villehuchet, a hedge fund adviser and investor whose firm said he lost $1.5 billion investing with Wall Street adviser Bernard Madoff, was found dead in his office in an apparent suicide Tuesday, police said.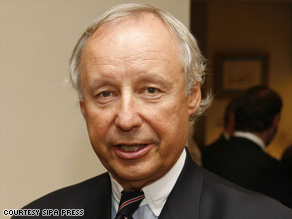 Police say Thierry de la Villehuchet's body had cuts on the wrist and bicep.
Emergency personnel discovered the body of Villehuchet, 65, at 7:29 a.m. in the Madison Avenue office of Access International Advisors, police said.
Villehuchet suffered "cuts made to his arm, to his wrist and also to his bicep area, with a box cutter," New York Police Commissioner Ray Kelly said at a news conference.
He also told reporters there were pills present, though it wasn't clear whether any were ingested, and there was no suicide note.
The body will be examined and a toxicology report issued Wednesday, said Ellen Borakove, a spokeswoman for the New York medical examiner.
Kelly read a statement from Access International Advisors' attorney saying the firm lost $1.5 billion by investing with Madoff, 70, a former Nasdaq chairman who is accused of operating a $50 billion Ponzi scheme.
1-08-2009
(CNN) -- Two days after the suicide of one of Germany's richest men -- who was apparently despondent over financial troubles -- banks agreed to rescue his business holdings, the companies said in a statement.
Adolf Merckle, 74, was hit by a train in the southwestern town of Ulm Monday. Details of the incident were unclear, but Ulm police said Merckle was apparently dragged for some time after being struck, as they found blood some distance away from the body.
Merckle's family said that he had been "broken" by the global economic crisis.
Merckle was No. 94 on the Forbes list of the world's richest people, after having been listed at No. 44 with a fortune of $12.8 billion. But he lost hundreds of millions of dollars, including company capital, betting against Volkswagen stock last year and his worth was listed at $9.2 billion in 2008.
"The financial troubles of his companies, induced by the international financial crisis and the uncertainty and powerlessness to act independently which the financial problems brought about, broke the passionate family business man, and he took his own life," his family wrote in a press release after Merckle's death.
#####################################################
Matthew 24:21-22 "21 For then shall be great tribulation, such as was not since the beginning of the world to this time, no, nor ever shall be.22 And except those days be shortened, there no flesh be saved: but for the elect's sake those days shall be shortened"
Proverbs 3:5 "Trust in the LORD with all thine heart; and lean not unto thine own understanding"
Luke 12:15 "And he said unto them, Take heed, and beware of covetousness: for a man's life consisteth not in the abundance of the things which he possesseth"
Psalm 49:6 "They that trust in their wealth, and boast themselves in the multitude of their riches"
Mark 10:23-24 "23 And Jesus looked round about, and saith unto his disciples: How hardly shall they that have riches enter into the kingdom of God!24 And the disciples were astonished at his words. But Jesus answereth again, and saith unto them, Children, how hard is it for them that trust in riches to enter into the kingdom of God!"
Isaiah 30:27-28 "27 Behold, the name of the LORD cometh from far, burning his anger, and the burden heavy: his lips are full of indignation, and his tongue as a devouring fire:28 And his breath, as an overflowing stream, shall reach to the midst of the neck, to sift the nations with the sieve of vanity: and a bridle in the jaws of the people, causing to err"
"to sift the nations with the sieve of vanity"
10-7-08
Global markets trended almost universally lower on Tuesday as the worldwide financial crisis continued to send shivers through the markets and financial institutions.
Vanity = wealth or money ($)
sieve=1) a lofty place, height 2) sieve, winnowing implement
today's meaning =
transitive verb
1 a
: to put through a sieve <sift flour>
b
: to separate or separate out by or as if by putting through a sieve
2
: to go through especially to sort out what is useful or valuable <sifted the evidence> —often used with through<sift through a pile of old letters>
3
: to scatter by or as if by sifting <sift sugar on a cake>
intransitive verb
1
: to use a sieve
2
: to pass or fall as if through a sieve
LISTEN: GOD IS IN CONTROL!
Psalm 73;18 "Surely thou didst
set
them in slippery places: thou castedst them
down
into destruction"
Psalm 75:7 "But God [is] the judge: he putteth down one, and setteth up another"
Ephesians 2:11-13 "11 Wherefore remember, that ye in time past Gentiles in the flesh, who are called Uncircumcision by that which is called the Circumcision in the flesh made by hands;12 That at that time ye were without Christ, being aliens from the commonwealth of Israel, and strangers from the covenants of promise, having no hope, and without God in the world:13 But now in Christ Jesus ye who sometimes were far off are made nigh by the blood of Christ"

Colossians 1:26-29 "26 the mystery which hath been hid from ages and from generations, but now is made manifest to his saints:27 To whom God would make known what the riches of the glory of this mystery among the Gentiles; which is: Christ in you, the hope of glory:28 Whom we preach, warning every man, and teaching every man in all wisdom; that we present every man perfect in Christ Jesus:29 Whereunto I also labour, striving according to his working, which worketh in me mightily"
May 11th, 2012
05:54 AM GMT
Romans 15:13 "Now the God of
hope
fill you with all
joy
and peace in believing, that ye abound in
hope
, through the power of the Holy Ghost"
Isaiah 45:22 "
Look
unto me, and
be
ye
saved
, all the ends of the earth: for I God, and none else"
Acts 20:28 "Take heed therefore unto yourselves, and to all the flock, over the which the Holy Ghost hath made you overseers, to feed the
church
of
God
, which he hath purchased with his own
blood"

PRAISE THE LORD JESUS CHRIST!